Pantry nooks, step in work space. What defines a pantry nook?
A pantry nook has a counter, it may or may not include cabinets, and often serves as both storage and workspace. It usually has a wide entrance; if doors are used they are often double doors. The depth is shallow and is just deep enough to step into, with an average depth of three feet (but can go slightly beyond that). Overall, it is a small footprint and not a full room to maneuver in.
Pantry nooks can also be referred to as "step-in pantries" or "side pantries." Pantry nooks can also function as a dedicated scullery space for washing dishes, or baking centers.
Many pantry nooks may suspiciously look like remodeled closets – and you're right! Homeowners desperate for a little more pantry storage may have converted closet space to pantry space.
However, more pantry rooms and pantry nooks are being intentionally built into new homes to counteract the "open concept design." Homeowners want the option to hide messes at times with doors and to have divided work zones separate from the main kitchen.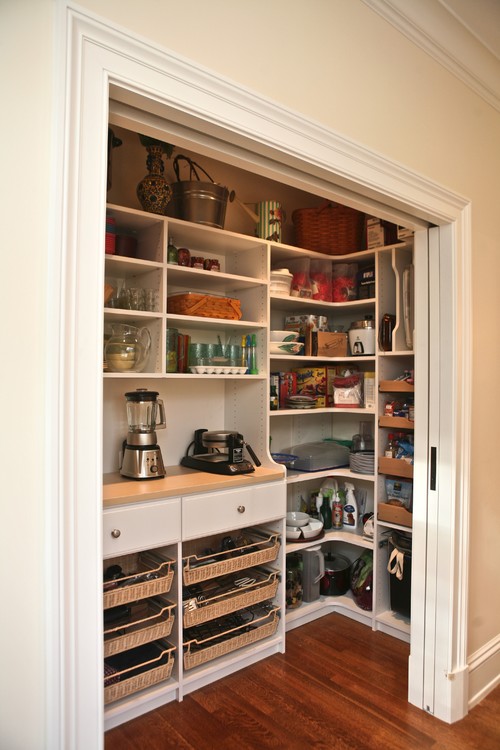 Photo by Marie Newton, Closets Redefined – Browse kitchen ideas
This pantry nook cleverly steps back the corner storage space, making it easier to place and retrieve items. A pocket door conceals it if necessary.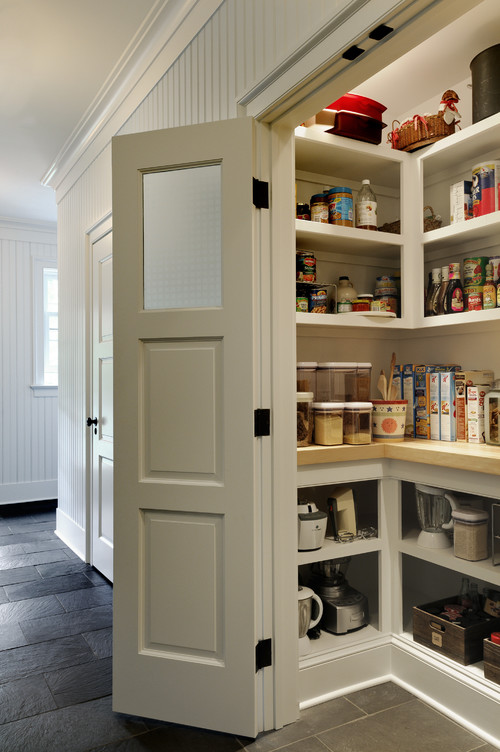 Photo by Crisp Architects – Search kitchen design ideas
Open shelving, even in base cabinets, is what makes pantry nooks "all business" and the emphasis on the practical. The pantry nook doors are an opportunity to add additonal style to the kitchen design.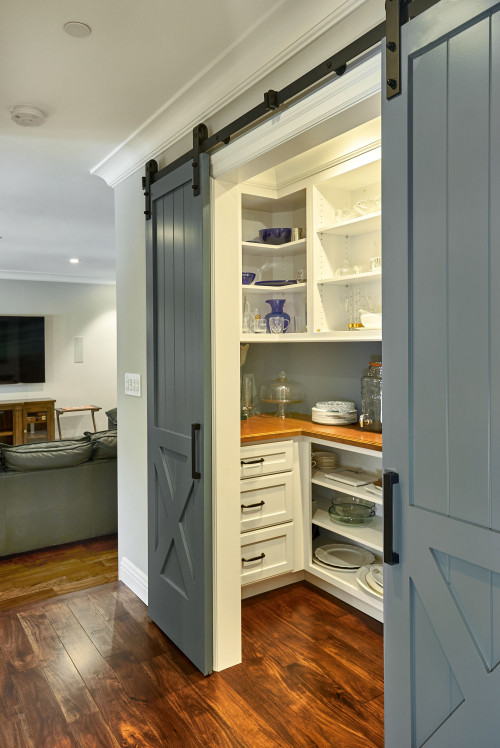 Photo by Spaces By Juliana Linssen, Inc. – Browse kitchen photos
The popularity of pantry barn doors extends to pantry nooks.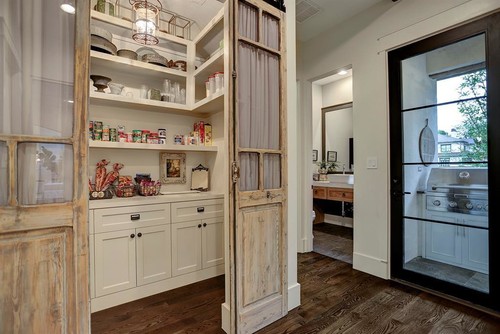 Photo by Purser Architectural – Look for kitchen pictures
This homeowner upcycled antique doors with glass panes to add a unique touch to this pantry nook. The creamy interior blends nicely with the doors.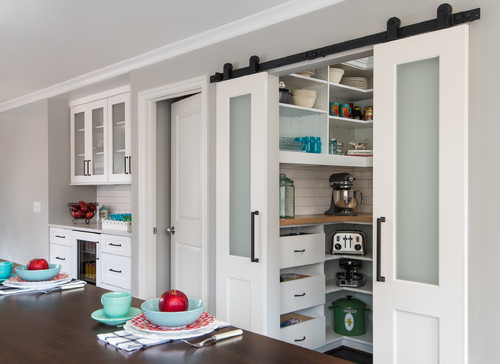 Photo by MainStreet Design Build – Search kitchen pictures
Small appliances are ideal homes in pantry nooks. Shallow corners are perfect for easily fitting things like mixers, toasters, and large pots. Pantry nooks are an opportunity to spend a little extra money on floor, wall, and ceiling furnishings, since it's such a small spot. Note the subway tile in the backsplash.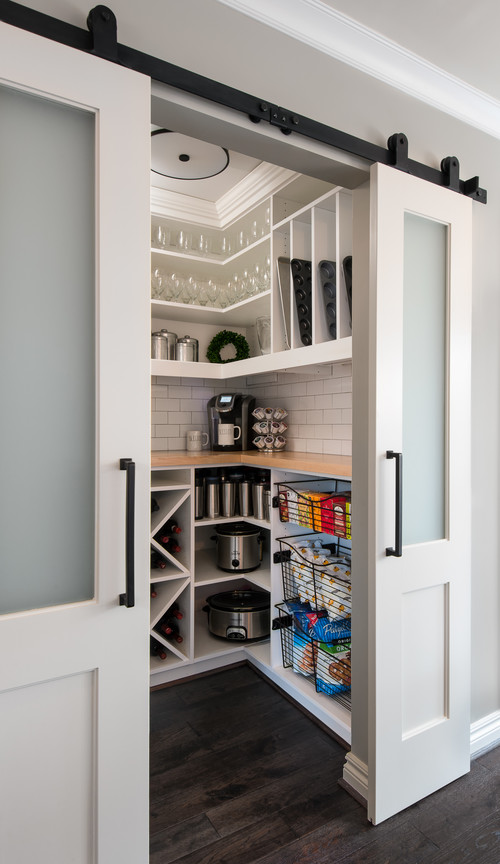 Photo by MainStreet Design Build – Search kitchen design ideas
This is the reverse view of the pantry nook above. From this view it may qualify for a "small pantry room." What is a pantry "nook" and a "small room" is subjective.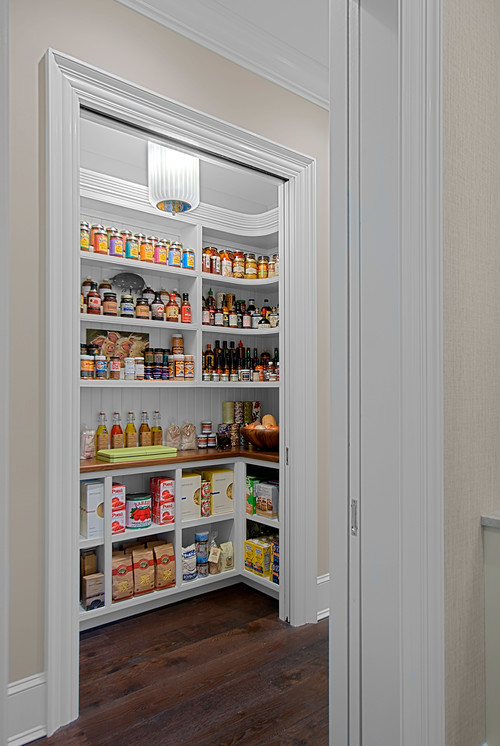 Photo by Benvenuti and Stein – Search kitchen design ideas
Another pantry nook with a pocket door. Note the sparkling chandelier – have fun with your pantry nook!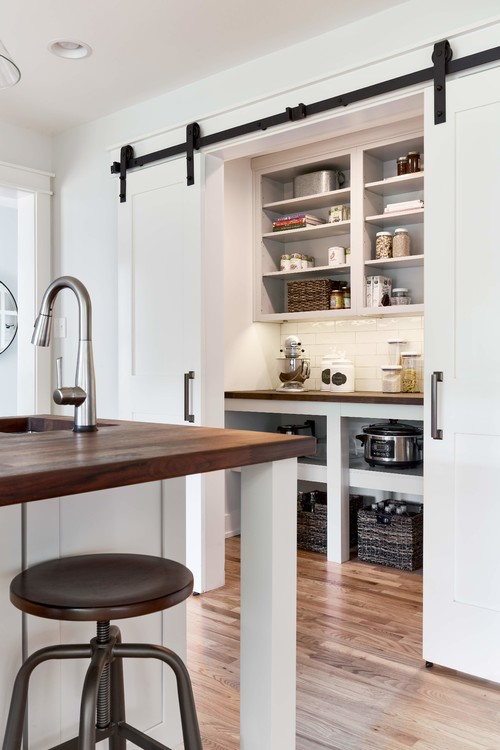 Photo by Jennifer Radakovic Design – Search kitchen pictures
Pantry nooks make excellent baking centers, sometimes even having their own sinks. Small appliances that would take up counter space in the main kitchen find a happy home in a pantry nook – and still easy to retrieve when you need it.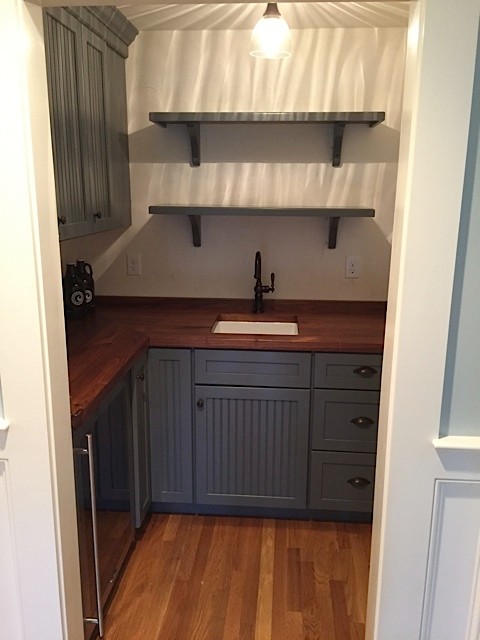 Photo by Barnett Building Contractors – More kitchen ideas
This appears to be a square pantry nook, but it could extend further to the right than we actually see. Some homeowners want a "pretty" entrance for guests to see, and then duck around the corner to retrieve food from shelves that are out of site.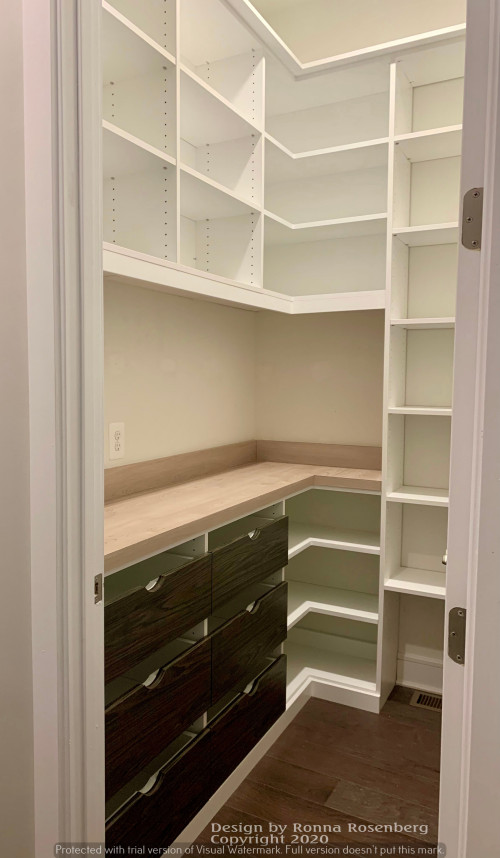 Photo by Ronna Rosenberg – Search kitchen design ideas
A simple, but very useful pantry nook.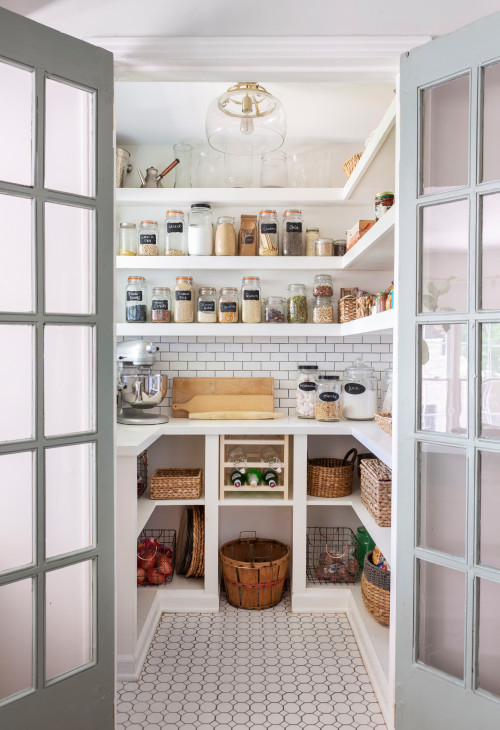 Photo by Kathryn J. LeMaster Art & Design – Discover kitchen design ideas
There is just something about mystery when glass doors are used in a kitchen. All of the food has been decanted and labeled, making this a "display" or "show" kitchen. Never discount the added decor punch a pantry nook can add to a home.