A narrow space doesn't mean you can't have a pantry! Check out these winning ideas for long narrow space in your house.
Although 42″-48″ is the width recommended for range of motion activities, it is possible to live with much more restricted clearances. If you really want to future-proof your pantry, you should aim to make pantry space more inclusive to all body sizes and mobile aids.
The traffic space in these walk-in narrow pantry images appears to span 20″-36″. For some of us, that would be a side-shuffle to gain access. It is often the accepted fate of pantries to be the keeper of leftover space in the house.
Proceed with no judgement – we don't know the challenges and space restrictions these brave pantry owners overcame! I must say, all involved really did achieve beautiful pantries.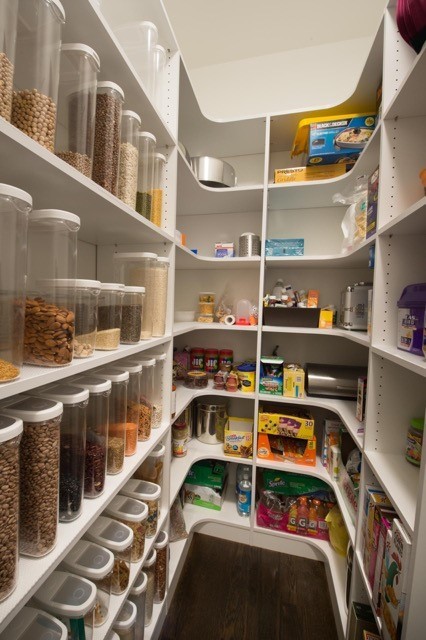 Photo by CLOSET FURNISHINGS & CABINETRY – Discover kitchen design inspiration
This narrow pantry appears to be furnished with a kit making it looks sleek (the rounded corners are an indicator).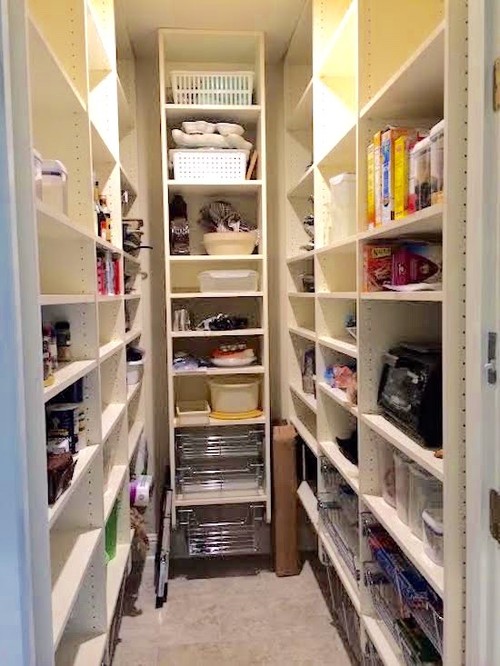 Photo by Melanie Johnson – Closets By Melanie – More kitchen photos
This equally-narrow pantry utilized a stand-alone pantry tower on the back wall. This mix and match approach works for any pantry.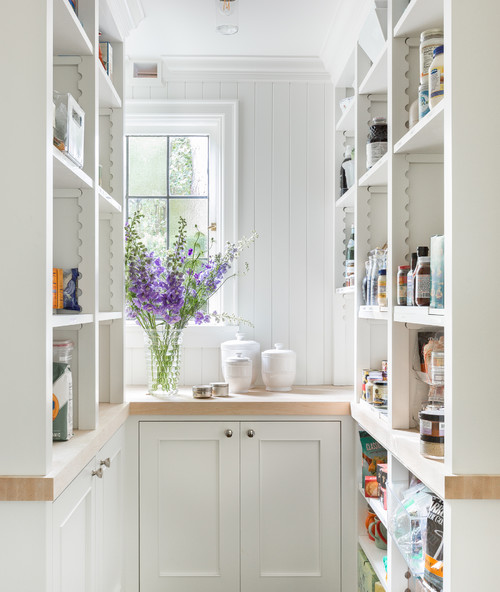 Photo by Warmington & North – Browse kitchen ideas
A pantry window peeks out around a blocked corner. Letting the light in helps the space seem less claustrophobic.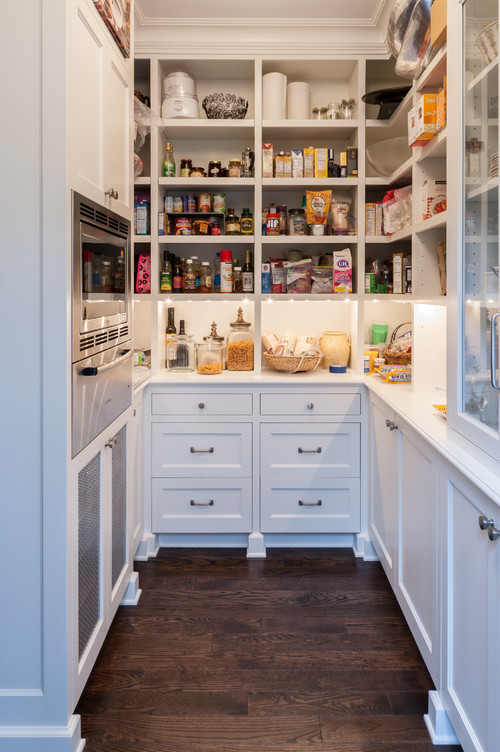 Photo by Kristi Spouse Interiors – Search kitchen design ideas
An oven was deemed necessary in this narrow pantry layout. Always consider clearances when opening cabinets and appliance doors.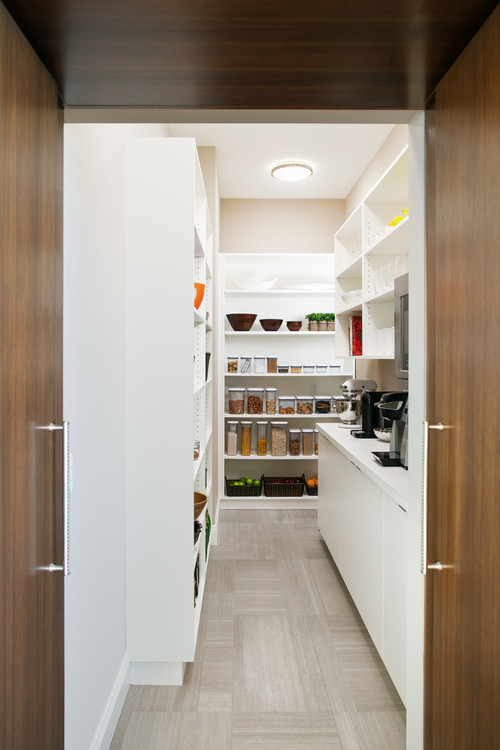 Photo by Arjay Builders Inc. – Browse kitchen photos
The builder found more pantry space for the client by using the hallway leading to a pantry room.
Observe the finish moulding detail rounding the top of the pantry shelves. It just takes a little detail like this to mark a pantry with distinction.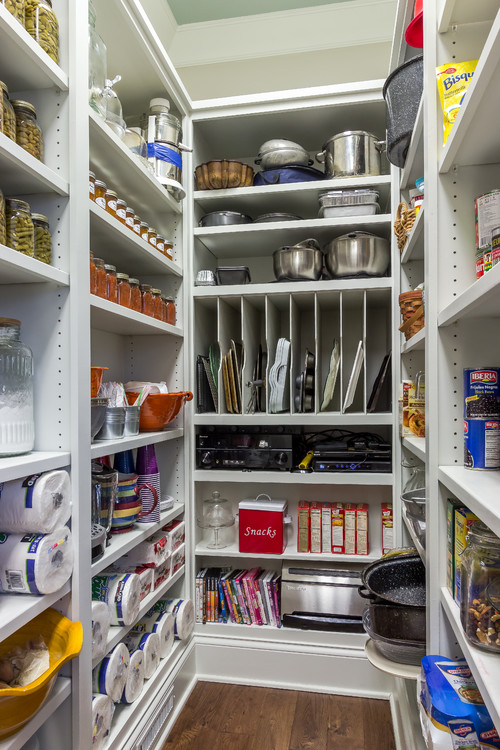 Photo by J Taylor Designs – More kitchen photos
A baker had input into this small pantry. It looks like all necessary baking equipment has a home. When possible, think about where you will place everything in your pantry during the planning stages for the best outcome.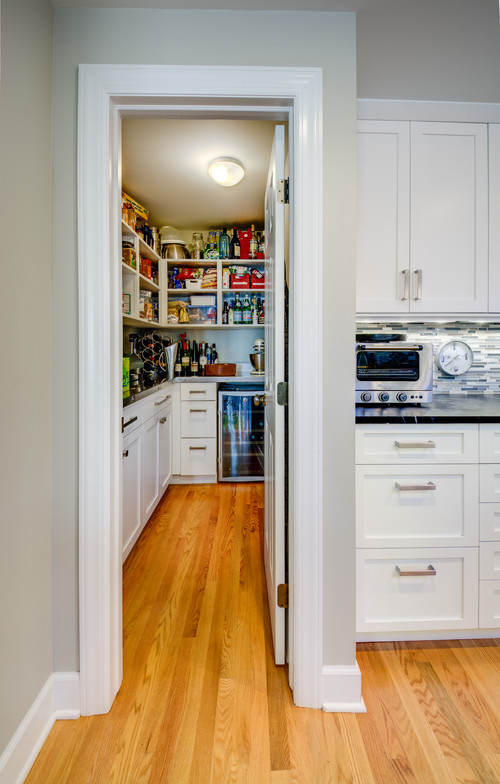 Photo by Studio Z Architecture – Browse kitchen photos
L-shape pantries do well in long, narrow spaces.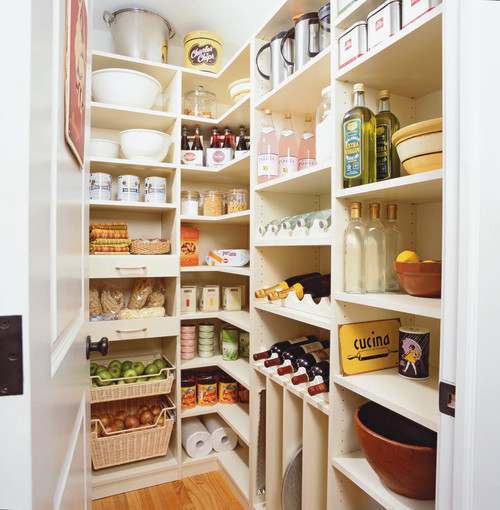 Photo by transFORM Home – Search kitchen design ideas
Another L-shape pantry does the trick in this storage space.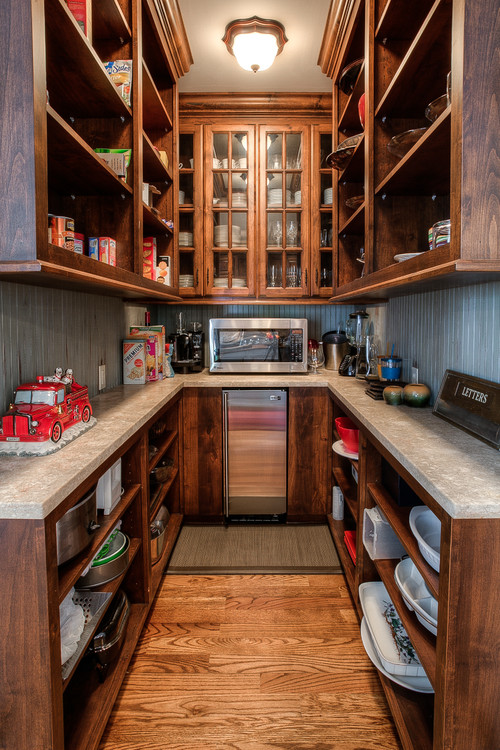 Photo by Scovell Remodeling, Inc. – Search kitchen pictures
Notice the narrow countertop in this pantry. Even narrow counter space can be useful, especially to set things down for a moment. The walkway is sufficient but it may be hard to perform activities when the upper cabinets are "in your face."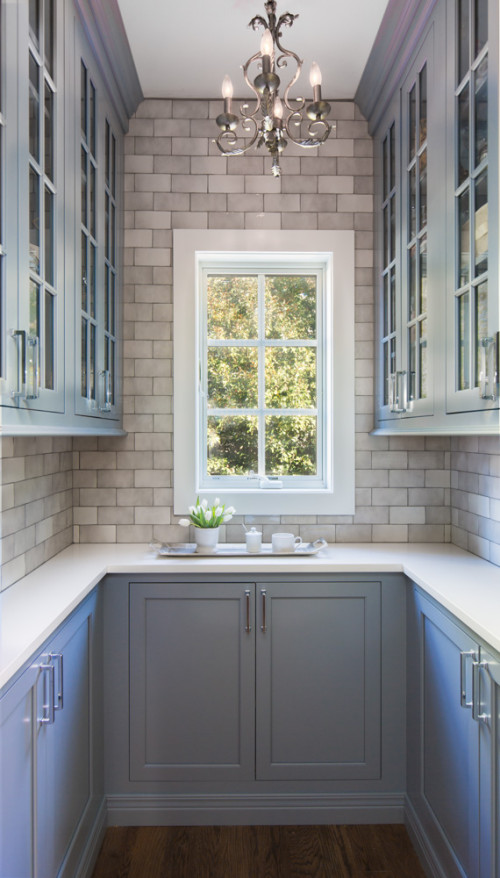 Photo by Karr Bick Kitchen and Bath – Look for kitchen design inspiration
Another narrow-counter strategy. This space appears to be wider than the photo featured above. The window helps draw the eye beyond, making the space more pleasant to be in and less tight. The light colors, miniature chandelier, and interesting wall treatment make this pantry a joy to be in.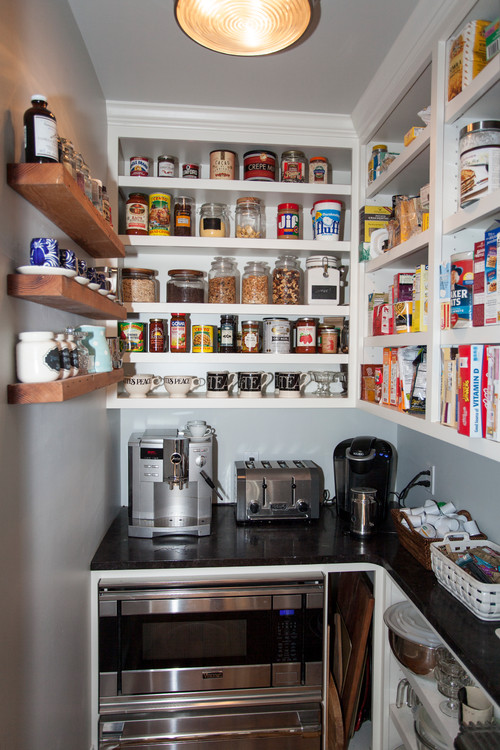 Photo by Rudloff Custom Builders – More kitchen ideas
L-shape shelves and cabinets, teamed with narrow shelves on a bare wall is an excellent strategy for narrow pantries.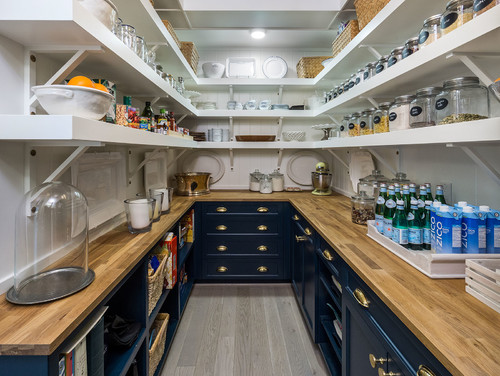 Photo by KuDa Photography – Look for kitchen pictures
Open shelving (and good lighting) is a wise choice for narrow pantries that have a tendancy to "close in" on the occupant.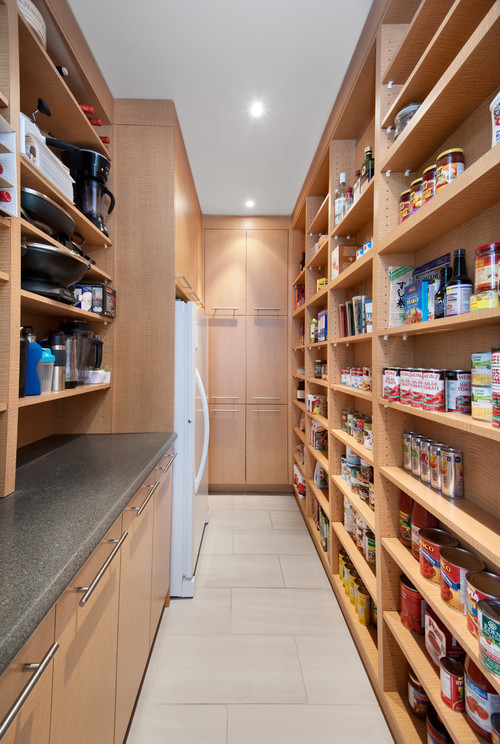 Photo by Southam Design Inc – Discover kitchen design inspiration
Although deep shelves can supply a lot of storage, narrow shelves make the space feel more airy, perhaps due to less "stuff" on the shelves. Utilizing the entire wall for storage was the key to success in this narrow pantry design.